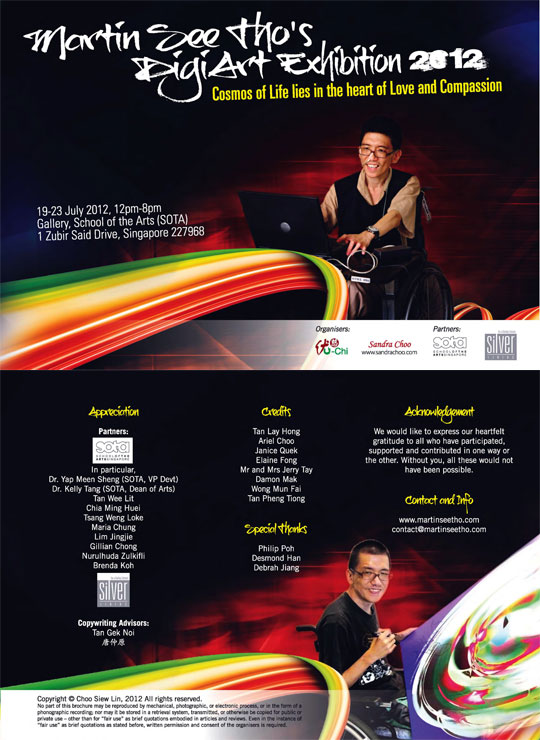 COSMOS OF LIFE
20 – 23 July 2012
Officiated by Guest-of-Honour Mr T.K Udairam, Chairman of Mercy Relief, the exhibition was launched on 19 July with the lighting of a symbolic candle which signified the strength and sparkle of love and compassion in Martin's Cosmos of Life. To mark this special occasion, three of Martin's works of art were donated to Mercy Relief for auction at its 4th World Humanitarian Day Observance on 22 August 2012. A total of S$23,000 was raised from the auction to support Mercy Relief's humanitarian operations.
The exhibition was visited by more than 500 patrons from all walks of life. Many were amazed, inspired and touched by Martin's creativity, uplifting artworks and his strong resilience to fight for life in turning the impossible to possible! Through this exhibition, truly deeply, the ripples of hope and the tranquillity of light are now echoing throughout the globe to create value, touch hearts and transform lives!
Our deepest gratitude and thanks go out to friends and collectors who acquired Martin's artworks at the pre-launch and during the exhibition; SOTA students; business partners; your support, contribution and participation; as well as all involved who graciously volunteered their services and time to put up this fantastic exhibition!