EVENTS: DIGITAL DIVERSITY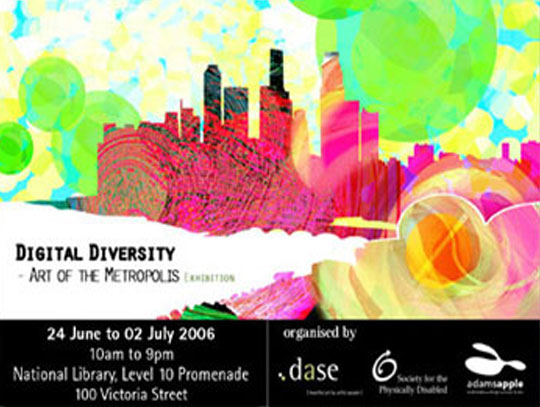 Digital Diversity – Art of the Metropolis
24 June – 02 July 2006
Be enraptured by a fistful of colours ready to enchant your senses and find out how dynamic works of Digital Art – displayed on their own or emblazoned on a variety of lifestyle elements – could further enhance your experience of daily living.
Digital Diversity – Art of the Metropolis, DASE's debut exhibition, is a celebration of the diversity and expressivity of Digital Art, a discovery of the ways in which Digital Art reflects influences of Metropolitan culture by being replicable on industrial merchandise of daily use.
The exhibition is also an effort to support and raise awareness for physically challenged but artistically talented artists – all artworks on exhibit are created by artists from The Society for the Physically Disabled.
Back To Events