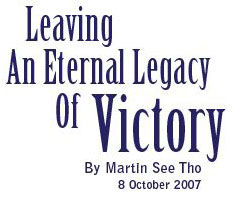 Never have I dreamt about this, or rather, I had no clue about what MJD (Machado Joseph Disease) was all about – all along I thought that MJD is a preventable and curable disease.
Like many other young graduates, after graduating from the National University of Singapore (NUS) in 1994, I set foot into the society as a Design Engineer with dreams and great aspirations for the future.
I was first introduced to Nichiren Daishonin Buddhism in 1995 by a friend, Shirley. As an engineer who always looked for facts and proofs, the first thing I did when Shirley shared with me about this Buddhism was to read up on the Daishonin's Buddhism and on Shakyamuni's Lotus Sutra. I also went in depth to understand more about SSA as I was also a little skeptical having heard that members of SSA practiced a Japanese religion.
After clearing my doubts and gaining insight about SSA, I decided to give it a try and began following Shirley for chanting sessions and meetings. Frankly speaking, I decided to take up faith just for one reason – I wanted to earn more money and do well in my career. At that point in time, I was telling myself that if chanting Nam-myoho-renge-kyo can help me to accomplish this free-of-charge, why not give it a try?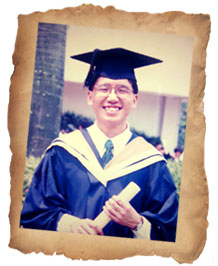 Little did I know that this was one of the most important decisions that I've made in my life. My faith in the Daishonin's Buddhism has become the most precious treasure in my life and a crucial pillar in the challenge I was about to undertake. Within a year, I received the Gohonzon, the object of devotion in Nichiren Buddhism, in 1996.
Life was smooth sailing thereafter for sometime. However, at the later stage of my second job as a project engineer, I began experiencing some instability in my movement, a symptom that I conveniently brushed off as exhaustion or work stress.
Towards end of 1998, I started to experience blurred vision caused by double vision, back pain, clumsy movement and weakness in my arms and legs. These symptoms resulted in some accidents at my workplace. Consequently, I decided to quit my job and enrolled myself into the National Institute of Education as a trainee teacher. Anxious to resolve the queer symptoms I was experiencing, I went for physiotherapy and Chinese "Tui-Na" (massage), acupuncture and "Qi-Gong" treatments, all of which helped to relieve my pain temporarily, but failed to address the root causes.
It was at this point in time that I began practising faith more seriously and earnestly, chanting at least an hour daily before and after work. My prayers were to have a safe day without accidents or falls, to regain my health as soon as possible; and to have the good fortune to meet the right doctor to give the right treatment so that my pain can go away.
In addition to more hours of chanting, I also started to read more guidances and books by SGI President, Dr. Daisaku Ikeda to encourage myself so that I can endure the physical pain as I did not want my family members to worry about my condition. Being a self-centered person by nature, I did not want to show my weaknesses, be it mentally or physically.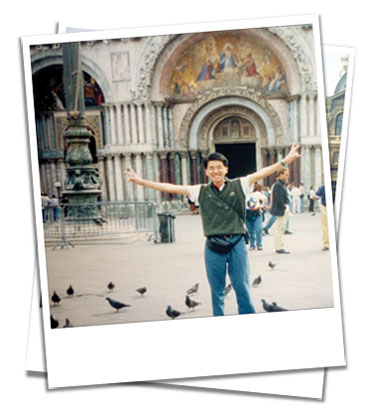 My world darkened even more when I began experiencing staggering lurching gait, which made my movements so unstable that it resulted in frequent falls. Some times, I was even mistaken as a drunkard. Fear and devastations captivated and froze my heart.
All these while, I put on a false front to avoid worrying the people around me. I pretended so well that none of them really knew my vision had already been badly affected. Having to stand long hours in front of a class as a trainee teacher was a tough challenge for me but I somehow made it. I was therefore, always grateful that I had Gohonzon and my practice to fall back on during the most difficult moments.
When my condition worsened and subsequently experienced abnormal postures and rigidity, I was referred to a renowned Neurologist who conducted a few tests. In May 1999, a test confirmed that I was suffering from MJD, which is also known as spinocerebellar ataxia type 3 – a rare hereditary ataxia. Ataxia is a general term meaning lack of muscle control. All the strange phenomena that I had been experiencing were actually the symptoms of this disease, which also include spasticity (continuous, uncontrollable muscle contractions), spastic gait, exaggerated reflex responses, and impaired balance and coordination. Examination revealed I had severe Ataxia, and signs of extra pyramidal and pyramidal dysfunction.
My whole world collapsed when I got to know that MJD is a progressive disease, meaning that the symptoms will worsen with the passage of time. I felt I had just been given a "death sentence" and the only thing I could and wanted to do was to chant daimoku!
I was at a complete lost and I just kept chanting to Gohozon, desperately fighting away the fear that was eating my life up. However, instead of gaining back my calm and composure, frustration and anxiety mounted in my heart: "Why me? Why have I not been protected even though I have practicing faith all these while? Why have my prayers to regain my health not answered and instead I was given this blow?"
I went hysterical and swept my hands across the table top and almost knocked the altar down. I broke down and cried uncontrollably. I was completely shaken – my life, my faith, everything. For almost two weeks, crying was the only thing I could do. I could not bring myself to do anything, including chanting daimoku.
After two weeks, I somehow began to hear a little voice in my heart – although soft and vague initially, it was calling out to me earnestly — telling me not to give up, urged me to go back to Gohonzon, encouraging me to go back to President Ikeda's guidances, and pleading me to go back to chanting daimoku, for this is the only hope and only path that I was left with.
I summoned forth every ounce of whatever remaining courage and energy I had and sat before the Gohonzon. I opened the altar slowly and with tears in my eyes, I looked intently into the words, "Nam-myoho-renge-kyo", written down the centre of the Gohonzon. I offered sincere apologies for flaring up, for losing control of myself; and most of all for giving up on myself, on my practice of faith and on the Gohonzon.
At that instant, I knew I had just made a pledge to dedicate my life to the Mystic Law. Right there and then, I resolved to overcome this obstacle based on faith and the following words kept pounding hard in my mind – "winter always turns to spring".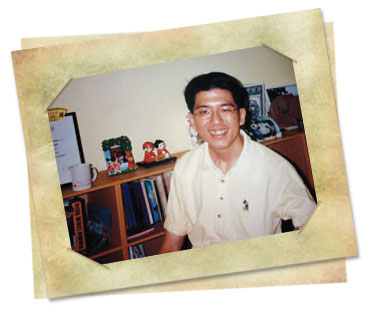 Since then, I confided all my sorrows and frustrations to the Gohonzon and it was through chanting daimoku that I regained enough life force to step back into the realities of my life. I still kept to myself about my illness. I tried to stay positive, firmly believing that my condition will improve with medication and strong prayers, just like starting a fire on damp woods. I was hopeful then and I reassured my loved ones I will be fine and will recover in no time.
I chanted earnestly and at the same time, actively sought for various medical treatments. Every treatment was a new hope and sustained me to keep fighting with faith as my fundamental support. I lost count of the number of doctors I consulted — both from eastern and western medicines – that was how earnest I was. I visited any doctor recommended by just anyone – from someone I met on the streets, or even a taxi-driver.
However, these efforts of mine did not seem to reap much reward. On the contrary, I was far from the road of recovery. I fell more frequently, suffering from cuts and bruises almost every other day. I began to feel frustrated again with more symptoms beginning to appear. They include sleep disturbances and muscle cramps throughout my body. I felt as if I had completely lost control of my own body – it was as if it no longer belonged to me. I felt completely devastated and at times, I would even scream out in the middle of the night when I was attacked by pain that was too excruciating to endure.
By March 2001, I could no longer keep up with the pretext. I revealed the truth about my medical condition to my family and asked for a wheelchair for I could no longer walk as I have totally lost my balance. No matter how hard I tried, it was beyond my control. Everyone found it difficult to accept my sudden revelation, especially my loved ones. The assurance I gave time and again was proven otherwise and everyone, including myself, was devastated by this unbearable truth. We cried our hearts out because since then, I was wheel-chair bound.
Many SSA leaders and fellow members came to encourage me. They kept urging me not to lose my fighting spirit and strong faith. Though I knew very well that all came with good intention, I was not listening anymore. I turned my cold shoulders on them and sometimes even flared up at them. I was aware that some were very much "frightened" or taken back by my hostility. But little did they know that each time after they had left, I felt deeply remorseful and apologized to them in my heart. I still chant daimoku for them and seek their forgiveness in my prayers, should they be hurt in one way or another by my unreasonable behaviour back then.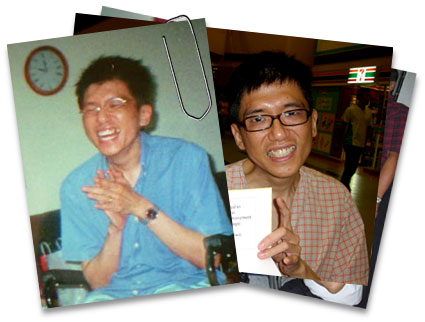 Honestly, I was rather confused. What do I get by keeping up my fighting spirit? Will I really be able to stand up on my feet again? Are my fellow members just comforting me with words or are these words the truth?
While I was wondering about the truth, the path before me began to open up mystically. A weekly daimoku chanting session began at my house shortly. It started off with just a few of us, chanting for an hour, followed by dialogue and testimony sharing session for half an hour. I am truly grateful to all fellow SSA members who have fought with me and my family during this period. With the passage of time, more and more new faces appeared at my house and unknowingly, it has become a place of genuine faith and a Buddha land where everyone gathered to encourage one another.
During the first year, I was still very positive and physically, I could still stand upright and take care of my basic needs. Although I was wheelchair-bound, I prayed earnestly that I must still be able to contribute to society and earn a living for myself. I was very happy when I was accepted as a clinical coder at a private hospital but it did not last long for my condition began to deteriorate.
I stayed at home, initially thinking that this would only be a short-term arrangement and that I would soon be able to go back into society again. The days went by – days turned into weeks; weeks into months; and months into years. For close to three whole years, I was confined to my home, taking more and more medication to treat different symptoms that kept appearing one after another. My family encouraged me to reach out for social help but I stubbornly refused as I did not want to be labeled as a "disabled person".
My physical condition drastically affected my mental condition. I was seized by fear and despair, not knowing what would become of my body, the very next moment, the next day, the next week, the next month, or the next year. It is difficult to imagine how terrible and helpless I felt as I started to lose those abilities which were once so naturally mine – my career, freedom, money, dignity, the ability to speak clearly and even to swallow food, so much that I always got choked whenever I drank or ate, a daily occurrence which made even the process of taking a drink or a meal unbearable. The ability to sleep soundly; to stand or sit; to balance oneself; to see clearly, to buckle the buttons on my shirts, to control my motions, to breathe smoothly with my lungs, to distinguish colors and contrast – I was beginning to lose them one by one as days went by.
I could feel my life waning away, not knowing how to continue with my life as everything seemed so meaningless and heartbreaking. Unable to find value and worth in my existence, I was waiting for the day to come where I could make a quick exit from this stage of suffering.
Strangely, amidst all these pain and dwindling hope, that weak but thunderous voice in my heart kept ringing in my ears as I chanted furiously for a breakthrough that would transcend all physical forms and boundaries. The weekly prayer sessions, strong faith and love from my loved ones were the strong forces that helped me perceive life from a new dimension and to remain undefeated, spiritually.
Above all, I am truly fortunate to have one senior, Jerry Tay, who is always walking by my side, physically and mentally, who is always there to support and encourage me, and at the same time, reprimand me with strictness when my fundamental darkness and weakness surfaced.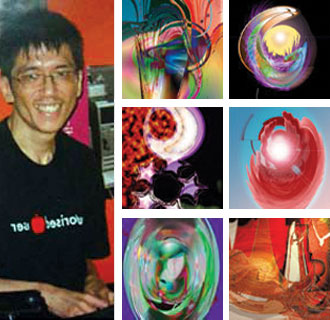 He also helped me deepen my bond with my mentor in life, President Ikeda. I felt immense gratitude to my mentor, for without his painstaking effort to bring the Mystic Law to the people in the world, including Singapore, I would not have the good fortune to encounter the Daishonin's Buddhism is this lifetime. Through the cultivation of the comradeship with seniors and fellow members and the firm mentor-disciple relationship, I regained my fighting spirit. However, I noticed that there was a change in the way I began offering my prayers – My prayers to recover used to be based on self-centered desires, such as wanting to be relieved of the pain and to attain personal happiness with my family. But now, I want to use my life to show actual proofs of victories, thereby repaying my debt of gratitude to the Gohonzon, my mentor, family and fellow members.
My turning point came when I was awakened to this and resolved to confront my life courageously. I decided to get out of my cocoon of self-pity by requesting for social help from Society for the Physically Disabled (SPD) in 2005. I did not know what to expect from SPD when I first joined the society. Other than the physiotherapy treatment, I was amazed and fascinated when they offered to teach me to do artwork using a computer. I learnt the software functions, the tools and the skills and unknowingly, I found my life brightened up with pastels of colours. Slowly but surely, through hard work, perseverance and daimoku, I was eventually recognized as a "DASE (Digital Art Social Enterprise) Artist".
Creating pieces of arts using computers may seem simple to a normal person, but for me, controlling the mouse with perfect precision has been a very challenging and tiring task as I have lost the ability to balance and coordinate. If buckling a button on my shirt demands such great effort, what more to controlling the mouse? If blurred vision is what I constantly experience, what more to bring color and contrast to a piece of work which I could proudly acknowledge as Art. Although the journey has not been smooth at all, I was finally able to proclaim with audacity and conviction to the world that I, Martin, have found a new form of expression of ideals for myself that transcends my condition – Digital Art.
Every art piece I did is so precious to me, for each and every one of them was completed with my heart and soul. Through them, I could feel a sense of dignity, a sense of achievement rather than being seen as a "disabled" person, treated with just mere "sympathy". I was overjoyed when I saw the eyes of my loved ones, sparkled with admiration and hope when they saw what I have painted on the screen. The journey may be tough, but for my loved ones and friends as well as for all who have helped and encouraged me to march on, I feel very much indebted to them. I believe the best way for me to express my gratitude is to do my best in producing good art pieces that will inspire others.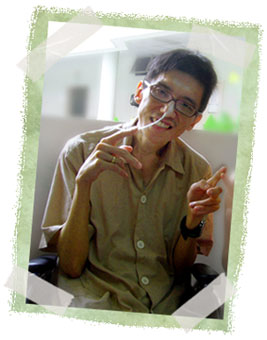 I have finally understood what President Ikeda means when he says we must achieve victory in life. I used to think my victory is to recover and be able to stand up and walk again. But now, I have realized that true victory is to have the courage to confront all adversities and to live out my life fearlessly no matter what the circumstances. Victory also means to be able to manifest my value and mission in life, regardless of my physical condition.
My physical condition took another major plunge in September 2006 when I went in and out of the hospital for over three months due to severe lung infection. The need for medical care became so essential that I was recommended to stay at a nursing home. On December 29, 2006, I became a resident of a nursing home at Yishun. Though it was another blow for me, I was very composed this time. I was determined to continue my painting and practice of faith, no matter where I was — even at the nursing home.
Amazingly, with focused actions and thoughts, coupled with a deep sense of gratitude, I was able to complete one art piece after another. By this time, my prayer was to be able to demonstrate the beauty and greatness of the Mystic Law by creating values via all these art pieces and to inspire many out there; that these values may even transcend the realm of life and death.
My prayer was finally answered – as the first recognized Signature DASE Digital Artist, my first Solo Digital Arts Exhibition was realized on December 14, 2007! This was my greatest victory!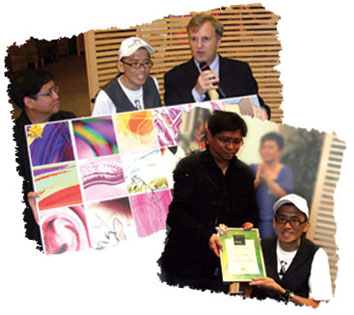 In fact, I almost did not made it for the exhibition when my condition deteriorated so much that everyone did not have much hope. At the most crucial moment, Jerry visited me and reminded me of one important point – that I have been creating so many art pieces but I have yet to do one for my mentor. With this single-minded determination that I'm going to complete an art dedicated to President Ikeda, I fought on. Strangely, as I worked on this art piece, my condition improved day by day. Finally, when I completed the artwork, which I appropriately titled, "Mentor and Disciple", I was well enough to travel on my wheelchair again.
Though my journey in life has been a tough one, and perhaps it will get tougher – I am ready to embrace it all!
I am truly grateful to my mentor in life, loved ones, friends, members of SSA who have supported and encouraged me all these years; to SPD, DASE Artists and Adam's Apple, who have helped and provided me with a source of new life and a platform to express myself. Because of all of you and the treasures of faith, I have found the strength and courage to march on, no matter how tough the situation.
The Exhibition only marked the beginning of the journey of my mission. It is my heartfelt prayer that I bring forth the mentor-disciple spirit through my art works in repaying my deepest gratitude. By translating President Ikeda's philosophy, spirit and wisdom into all my art pieces, I hope to bring inspiration, faith and hope to all, thereby creating the greatest value in life and leave a lasting legacy of victory behind, rather than the shadow of defeat.
"If one day, should I leave this world, I know there will not be any traces of regrets for I have achieved great victory by facing life courageously and has transformed my life. Please only remember my art pieces rather than my physical form for through them; you can see my true beauty and my conviction and faith for life. They are the manifestations of my value and the mission to inspire many out there."